Ruskin Students First in Country to Achieve KS3 National Baccalaureate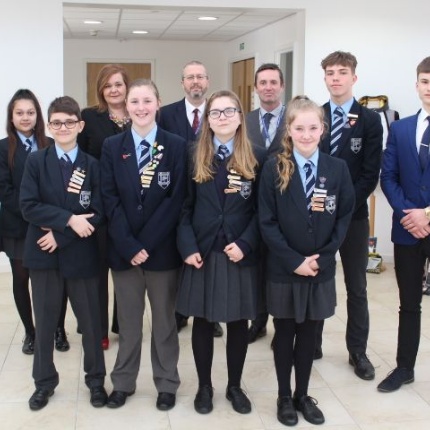 Four ambitious students from The Priory Ruskin Academy have become the first students in the country to achieve the National Baccalaureate at KS3. Kaan Yaldiz (Y8), Ciara North (Y8), Emily Hollis (Y8) and Martha Bensley (Y7) (pictured front L-R) have demonstrated complete commitment to their studies, the academy and wider community through the achievement of their 'Ruskin Respect Awards', an award scheme developed by the Academy that recognises students that go the extra mile in 5 key areas: Aiming High, Learning, Health, Community and Creativity. In addition to their exceptional participation and achievement in the Ruskin Respect Awards the students have also undertaken an independent learning project, which was presented to a panel, and completed a 'reading passport', demonstrating they have engaged in a wider reading programme.
Tom Sherrington, Chair of The National Baccalaureate Trust, praised the 'brilliant' students when he visited the Academy to see the work they have undertaken to achieve this prestigious awards. Mick Oliver, Assistant Head who has worked with The National Baccalaureate Trust to introduce the award at KS3 said, "At Ruskin we believe in a rounded education, so we are hugely proud to be the first school in the country to grant the KS3 National Baccalaureate to our students. We are particularly proud of the four dedicated students who achieved the award first. They are trailblazers!"