Ruskin: Young Fundraisers of the Year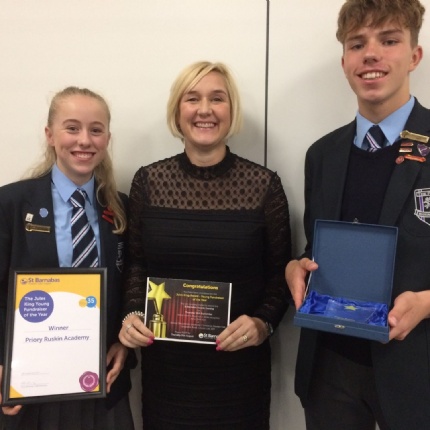 Ruskin staff and students are delighted to have won the 'Young Fundraisers of the Year' award at the St Barnabas Lincolnshire Hospice Annual Celebration of Achievement Event held in Lincoln last night.
Ruskin was recognised for 'the support given to the hospice in a number of ways over the years' including groups of staff and students partaking in 'It's a Knockout', hosting the St Barnabas 'Strictly' event (featuring our very own Mrs Greenfield!), selling their knitted Easter chicks each year, holding raffles, a balloon release (in support of a student whose father was cared for by the hospice), various cake sales as well as welcoming the hospice into the Academy to speak to staff and students on their awareness days. Mrs Vicki Geeson who leads the charity work at the Academy said, "The hospice are an amazing local charity whose work has such a positive impact during difficult times. We are proud to support them and are thrilled to have won this award".