Ruskin Careers Strategy
Statement of Intent
The purpose of the Careers Education and Guidance Programme at The Priory Ruskin Academy is to help young people to develop the knowledge, understanding and skills they need to make well informed choices and manage transitions in learning and work. The academy is committed to providing students with a planned programme of activities that aims to help students to understand the purpose and benefits of education and inspire them to greater achievement in their formal qualifications as well as successful progression into the next stage of their lives, and the world of work in the longer term. The programme is an integral part of the whole academy and incorporates both formal careers education, information, advice and guidance activities, as well as other opportunities linked to subject areas.
Careers Strategy
The Careers Strategy sets out that every school and academy providing secondary education should use the Gatsby Charitable Foundation's Benchmarks to develop and improve their careers provision. The eight Gatsby benchmarks are shown below: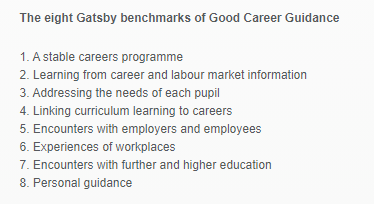 Careers Team:
Richard Johnston
Lisa Pexton
Rachel Wyles
Ros Gulson and Mos Kalbassi
Victoria Rossington
Gemma Dodsworth
Other stakeholders
Careers Lead
Communications and Careers Officer
Headteacher
Link Governors
Link member of SLT
PSHE Drop down days Coordinator
SLT, Heads of Department, SENCO, Heads of House, Form Tutors and Pastoral Team
Careers Programme
The Priory Ruskin students receive unbiased, high quality, up-to-date and locally relevant careers information and guidance, with multiple opportunities for good quality, meaningful encounters with the world of work.
Our careers programme is modelled around current best-practice for careers guidance and the eight Gatsby Benchmarks developed by the Gatsby Foundation have been at the heart of our careers work for some years. Our ambition is to encourage students to see career development as a life-long process starting now.
All students are entitled to the following:
Gatsby Benchmark 1: A stable careers programme
All students have access to a planned programme of careers education and guidance which is reviewed and developed each academic year to support the needs of our students. This programme is mapped to the Career Development Institute's Careers Framework that presents learning outcomes across seventeen important areas of careers, employability and enterprise learning.
The academy programme of careers education is delivered as follows:
PSHE/Careers Day.
Assemblies
Tutor activities
Curriculum
Employer encounters
Personal guidance interviews with a qualified Careers Advisor
Group sessions with the Careers Leader
Virtual Work Experience
Gatsby Benchmark 2: Learning from career and labour market information
Through the career's education programme students learn how to find and process information about the local and national labour market. This includes:
Support to register with career guidance website and guidance on how to find and process information from Year 7 onwards.
Careers education delivered via the PSHE/careers programme.
Up-to-date careers information area on the academy intranet and external website.
Encounters with employers.
Gatsby Benchmark 3: Addressing the needs of each student
The Careers Leader tracks the consistency and impact of the careers and enterprise programme to ensure that it continues to address the needs of each student.
Opportunities for advice and support are tailored to each key stage, with diversity and equality embedded in the academy's PSHE/careers programme.
The academy collects and maintains accurate data for each student around their education, training and employment destinations for at least three years after they leave. This information is shared with current students to support ongoing review and evaluation of the current careers programme.
Gatsby Benchmark 4, 5, 6 and 7: Linking curriculum learning to careers/encounters with employers and employees/experiences of workplaces/encounters with further and higher education
The academy has strong links with outside agencies including universities and colleges, local businesses and charitable organisations which contribute to:
Raising aspirations and increasing motivation by helping young people to identify educational and occupational goals.
Demonstrating the relevance of the knowledge and the skills learnt in subjects to future opportunities in learning and working.
Developing the skills for effective learning – reviewing achievements, setting targets, planning and taking action.
Improving literacy by developing information and communication skills.
Reducing NEETs
Strategies for developing personal learning and thinking skills by building self-confidence and self-reliance.
Promoting positive and informed attitudes to learning.
Gatsby Benchmark 8: Personal Guidance
The academy is committed to providing one-to-one guidance to all students at key transition points i.e. Year 8 guided options, Year 11 Post-16 Pathways and Year 13 Post-18 Pathways.
Students with an Education, Health and Care Plan receive a personal guidance interview with a qualified Careers Advisor throughout their secondary education.
Students on the SEN Register receive a personal guidance interview with a qualified Careers Advisor in Year 11, 12 and 13.
All students can request a personal guidance interview with a qualified Careers Advisor via their Head of House or Form Tutor.
In addition to planned personal guidance interviews, students can access drop in sessions.
The Careers Leader attends Open Evenings, Careers Fairs, and Parents' Evenings and supports students on exam results days.
Parental Engagement Strategy
At The Priory Ruskin Academy we aim to:
Communicate with parents/carers on a regular basis, e.g. newsletters, personal contact, emails, telephone.
Capture feedback, thoughts and opinions from parents/carers where possible, e.g. after events, surveys, newsletters etc.
Communicate with parents/carers during Year 8 Option evening, Parents evenings, Open EventsLearning evenings and Careers Fairs.
Invite parents/carers to be guest speakers about their career.
Update the website so that parents/carers can see potential careers opportunities for their child.
Organise a work experience evening for both parents/carers and students, prior to students completing their placement.
Take positive steps to engage with staff and families to identify strategies that best suit their community.
Teaching staff contribute to the delivery of careers guidance through:
Local Employers contribute to the delivery of careers guidance through:
PSHE Programme
Work experience / assemblies / careers fairs / mock interviews / engagement activities
If you have any questions, or would like more information about our careers programme, please contact Mr R Johnston, Careers Leader or Miss L Pexton, Careers and Communications Officer.
Telephone: 01476 410410
Email: rjohnston@prioryacademies.co.uk