Ruskin Students Win Grantham Heat Stages of SlamJam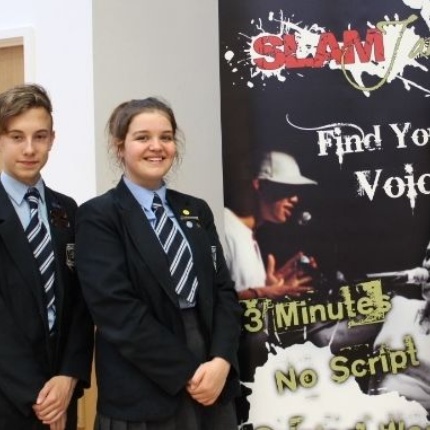 The Priory Ruskin Academy hosted the Grantham heats of the Rotary's 2017 SlamJam competition on Tuesday 16th May. SlamJam is a performance based writing competition for secondary school students. Choosing to write a poem, a story or a dramatic monologue, students consider the effect they want to have on an audience, and craft their writing accordingly. There are few rules…performances must last no more than 3 minutes; and no costumes or props are allowed. It is all about the quality of the writing, and of the performance. The process is ultimately competitive, but the journey is about the enjoyment of creative writing, and sharing it with an audience.
Students from all schools performed brilliantly on the night with a real range of performances. At the end of the evening Ruskin students, Millie Walpole and Tristan Holdford, were announced as winners of this heat but a special mention must go to Max Shepherd and Max Blakey who also performed excellent pieces. Students will now have to wait until all the heats are complete to see to who has made it through to the finals at the Drill Hall in Lincoln on the 22nd June.