Students Victorious At Design Academy Awards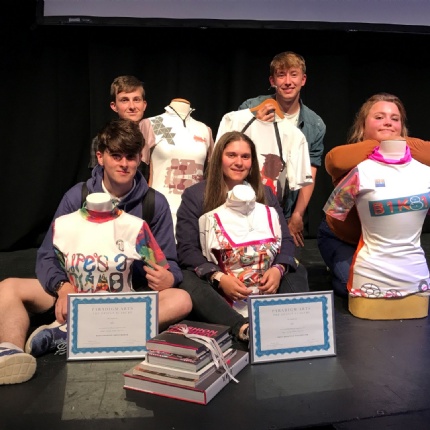 On Friday 23rd June, Year 11 students from The Priory Ruskin Academy went to the Drill Hall in Lincoln to showcase their GCSE Product Design Coursework at the Design Academy Awards. The students' design brief had been to design and make sportswear for a variety of different sports and activities including rock-climbing, mountain biking, dance, swimming, basketball, horse-riding and netball. Their effort and determination were rewarded on the night, winning the Best Collection and Best Sketchbook awards.
This is a huge achievement for the students who have work tirelessly over the last 18 months to produce professional products along with packaging and advertising campaigns. They have learnt skills in Graphic Design, Product Design, Packaging Design, Manufacturing, Sewing, Photography, Printing, Advertising and Marketing to produce products that could easily be found in sport shops.
Mrs Greenfield, Product Design teacher at Ruskin said, "I am incredibly proud of all of my students for working so hard over the last two years. It has been wonderful to see them develop and grow into professional and forward thinking young designers. I hope in the future that they will go on to have a successful and rewarding career in the design industry".