Ruskin's commitment to the arts and cultural education recognised with prestigious Artsmark Gold Award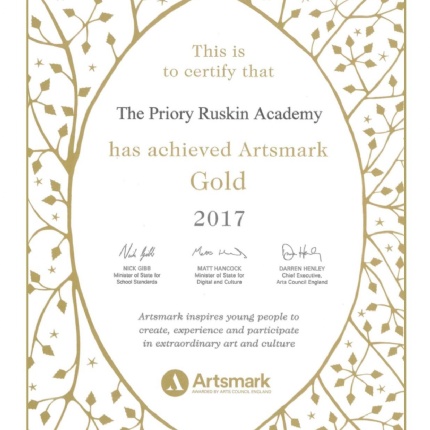 We are delighted that Arts Council England has officially awarded The Priory Ruskin Academy the Gold level Artsmark award in celebration of our commitment to arts and cultural education at a leadership level and the opportunities embedded across the Academy. The award recognises that our students have equal opportunity to plan, experience, participate in, and evaluate a diverse range of high-quality arts and cultural activities, as well as our partnerships with a wide variety of arts and cultural organisations.
"Your children and young people have an opportunity to further develop their knowledge, skills and understanding of arts and culture and you are working to share the expertise you have established. The panel recognise the commitment made to the arts by your school and the significant steps that have been made to increase the take up of GCSE arts subjects have been impressive. It is likewise good that you have begun to form a wider range of partnerships and have implemented the Arts Award, which will give students autonomy and responsibility" said Amanda Rigler, Senior Officer, Arts Council England.
Mr Martini, Head of Art said, "It is incredibly important to us that students are given the opportunity to develop their creativity and use the arts to engage and develop into happy, self-expressed and confident young people. We are extremely pleased to receive this award in recognition of a lot of hard work and will continue to strive for the best possible creative arts education for each of our students".