Academy Celebrates A Level Results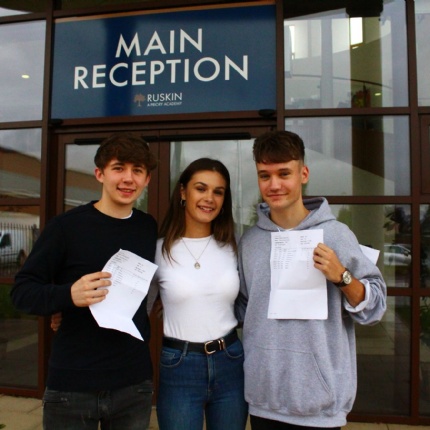 The Priory Ruskin Academy is celebrating another excellent set of KS5 results this year as Sixth Form students reap the rewards of their hard work over the last 2 years.
Notable achievements include:
Oliver Coleman A*,A*, A who will go on to study Engineering at Imperial College London
Adam Garnett A, B, B who will join the University of Nottingham studying Computer Science
Kieran Wallace Dis, Dis, Dis who is going to study Law at the University of York
Vala Pavlik Dis*, A, B, C who will join the University of Bristol studying Law
Lily Dixon A, B, B who is going to Sheffield Hallam University
Muhammed Ahmed A, B, B, B who will take a gap year
Ahkin Bautista A, B, B, B who is considering his options for which university he will attend in September
Millie Stewart Dis*, Dis*, Dis who will study Sports Coaching at Leeds Beckett University
Adam Sulik who will attend the University of Leeds to study Sports Science and Physiology
Ryan Taggart who will study Accounting and Finance Management at Loughborough University
Rachel Wyles, Headteacher said: "Ruskin students demonstrate an unfaltering work ethic and commitment to success and this has been reflected in the results we see today. I'm incredibly proud of our students, and the staff that have supported, encouraged and inspired them. I wish them all the very best in their future endeavours and look forward to hearing of the further successes I know they will go on to achieve".