Rosie Wins Lincolnshire Young Designer of the Year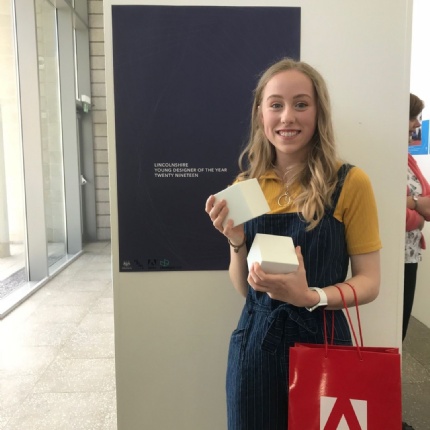 Ruskin Student, Rosie Milner, swept the board at the Lincolnshire Young Designer of the Year Awards on Friday 24th May hosted by Lincoln University. Wowing the judges with her innovative eco-friendly product packaging, the A-Level Graphic Communication student won three categories: Best Product Design, The Adobe Prize (awarded by the Head of Adobe Software) and the main prize of Lincolnshire Young Designer of the Year 2019.
Rosie's idea was inspired by the amount of litter she was shocked to see when she completed her Duke of Edinburgh expedition. She felt snacks available in the supermarkets all involved excessive packaging and so, drawing on this experience, Rosie designed packaging for several snacks made out of seed paper. This special packaging has seeds trapped into the layers of paper which can be rolled and buried into the earth to regrow as wild flowers after the snack has been consumed. This innovative solution not only reduces littering, it gives back to the environment, reduces landfill waste, reduces manufacturing costs in printing and raises awareness for pollution. Due to the texture of the seed paper, only minimal printing is possible therefore all-important nutritional information is contained on a website and app that is accessible via a QR code on the packet.