New York! February 2016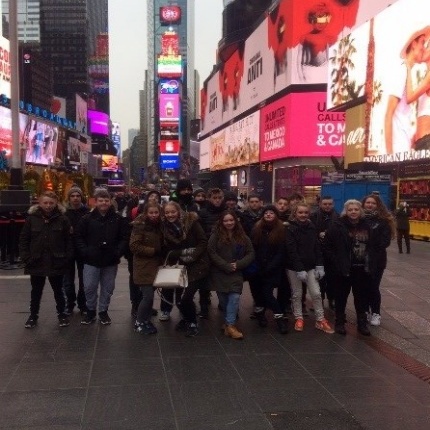 During February half term, 19 students and 3 members of staff excitedly travelled to New York for the trip of a lifetime, the first time a group had travelled to America from The Priory Ruskin Academy.
The trip was an unbelievable experience, with a jam-packed itinerary to ensure students got to see as much as possible of the city that never sleeps! Staying in a hotel situated just off Time Square the group had a perfect base to travel up and down the city. Students went up the Empire State Building, the Statue of Liberty and the Rockefeller Centre providing plenty of fantastic sights and photo opportunities. Cultural experiences were in abundance with visits to the Natural History Museum, the award winning theatre show 'Matilda' as well as the incredibly moving 9/11 memorial. There was even a film set moment when a walk through Central Park was perfected with snow fall—how many people get to experience that?
Being in New York meant that food was plentiful and students had the opportunity to eat at Planet Hollywood, Bubba Gump and the Hard Rock Café to name just a few.
The group really bonded, which was great to see across such a wide age range, and all went home with new friends and experiences. On returning to the UK the main question asked was 'where's next?' … it looks like Ruskin students are getting the travel bug!
The students were an absolute credit to the Academy and themselves and Mr Briggs, Mr Finch and Mrs Scott would like to congratulate and thank all of them for their impeccable behaviour for the entire duration of the trip—it really helped make it an unforgettable experience!