Visit by Ben Smith, 401 Marathons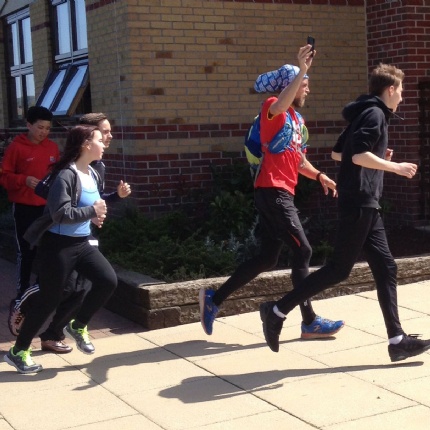 On 4th May 2016, Ben Smith (401 marathon runner) was warmly welcomed into the Academy by staff and students. He has challenged himself to run 401 marathons in 401 consecutive days. The aim is to raise £250,000 for two fantastic charities, 'Stonewall' and 'Kidscape'. Both these charities work tirelessly to combat bullying in our schools and society
On Wednesday 4th May Ben Smith made an appearance at the Academy on his route through the United Kingdom.
Ben began a truly awesome challenge on the 1st September 2015. To undertake a 'World Record' attempt which will see him run 401 marathons in 401 consecutive days around 309 different locations of the UK. The challenge is aimed to raise both awareness of the issues of bullying in our society, along with £250,000 for two amazing charities dedicated to tackling bullying. The two charities are called 'Stonewall' and 'Kidscape'.
Ben's Story
At the age of 10 I went away to school. My father was in the forces and at the time we lived in Germany and to ensure my schooling wasn't affected the decision was taken to send me to boarding school in the UK. Coming from a very close and supportive family environment I found myself alone and very insecure; it would be fair to say it was a shock to the system and a change I wasn't completely prepared for, this meant I was an easy target for school bullies unfortunately.
Over the following 8 years I became more and more reclusive and unsure of myself. I turned from an outgoing and excitable child into a very shy and under confident individual. The daily physical and emotional abuse broke me and unfortunately at the age of 18 I tried to take my own life after suffering a nervous breakdown. Growing up as a teenager is hard enough without having to go through mental and physical abuse at the hands of your peers.
After leaving school I went straight on to university where it was clear that the bullying had left its mark on me. I wasn't able to trust people, make friends or even function some days, I spent most of my first year automatically feeling people were out to get me. I felt alone and unable to talk to anyone about it, my studies suffered and on leaving full time education I didn't really have a clear understanding of who I was and what I wanted to achieve in life.
Over the next 12 years I led what could only be described as a routine, normal existence. I focused on accomplishing things others wanted me to do never really having the strength or motivation to make my own decisions, I suppose you could say I became a bit of a professional at this.
Around 3 years ago I started running; I got into it as a way of reducing stress in my life. I was overweight, depressed and needed something to focus on. I can't count the number of times I had watched the Virgin London Marathon on TV and wished I could do something like that. I started with running a few miles and then built this up and completed a few 10K races and then my first half marathon in 2012. The feeling I got from running was a sense of accomplishment I had never felt before, I was hooked. Having never been very good at sport at school you could say I had started from nothing which made the achievement even sweeter.
Around 2 years ago I decided to plan a challenge that at the time I honestly didn't feel like I would be able to do; this is where The 401 Challenge was born.
Having a close network of friends, family and sponsors on board has been integral to the success of The 401 Challenge so far. The strength they have given me to accept who I am has led me to be able to use my own experiences from my past and present to stand up and be counted when it comes to stamping out bullying. The 401 Challenge isn't about being a victim, the challenge is about showing people that no matter what you go through growing up there can always be a positive outcome if you want there to be.