Ruskin Celebrates Record Breaking GCSE Results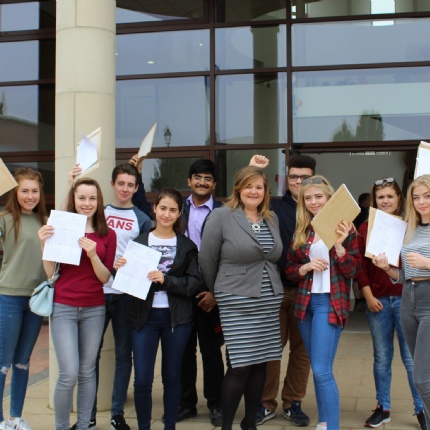 The Priory Ruskin Academy is thrilled by a record breaking set of GCSE results, augmenting its top 10% performance last year.
The Academy is delighted by outstanding performances in English and Mathematics, which has seen a considerable increase in the headline A*-C measure. Specialism departments in Sports, Visual Arts and Performing Arts have also maintained their high achieving standards; equally, Ebacc subjects in MFL and the triple sciences of Biology, Chemistry and Physics have attained over 90% A*-C grades.
Rachel Wyles, Headteacher of the Academy said, "We are incredibly pleased by such an outstanding set of results. The Academy prides itself on the energy and dedication of its staff, the commitment and determination of its pupils and the superlative quality of opportunity afforded to our student body. These results are a real testament to these values. They are well deserved and hard earned by a determined staff and student body - many congratulations to all."
There were a number of fantastic individual success stories including Muhammad Ahmad who got 9A* and 1 A, "I am so pleased with my results and I am now looking forward to staying on at Sixth Form to study Sciences, Maths and Further Maths". Lewis Parke said, "I am so happy. I have put so much effort into my GCSEs and the teachers have been brilliant. I'm looking forward to coming back to start A Level studies next week". Eleanor Britten, who was also delighted with her results said, "I have worked so hard. I went to the Academy's French Centre at Easter for a revision week which was really helpful, I am so happy with my results".
The majority of the Academy's students are now looking forward to building on their success in the Ruskin Sixth Form, which is looking forward to receiving its new year 12 intake just as a new, state of the art facility is being developed.