MEASURING IMPACT
The Academy rigorously measures the impact of its careers programme, to ensure it continues to meet the needs of our pupils, by making sure it is relevant, meaningful, and impactful.
The Academy uses the Future Skills Questionnaire, which is embedded in Compass+, a tool that is funded by the Careers and Enterprise Company, to baseline students at key transition points, and track progress between key stages.
The Academy closely monitors potential 'NEET' (Not in Education, Employment, or Training) students, to ensure bespoke, targeted support can be provided to any student who would benefit from it.
Individual activities and interventions are evaluated, and continuous feedback is provided by students, staff, parents and carers, and employers. The Unifrog platform provides the Academy with data related to student engagement with various tools such as the Library, the Post 18/18 Intentions Tool and the logging of competencies and activities.
Our destinations data can be accessed via school performance data accessed via DfE: https://www.compare-school-performance.service.gov.uk/.
Last year, over 71 students were successful with their applications to university, with 59 taking their placement this year.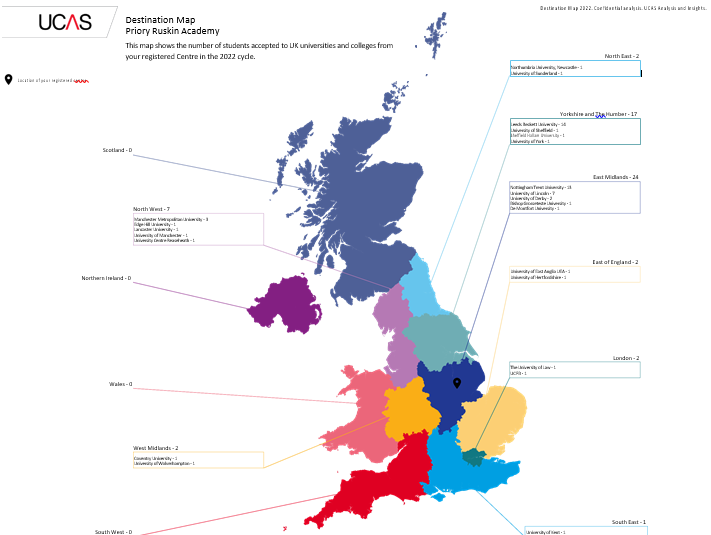 All students in Year 11 at the end 2022, progressed into either Further Education or an Apprenticeship.
Career Mark Accreditation
Ruskin is proud to have been awarded with the Career Mark Accreditation in 2021. Career Mark recognises the quality of the independent and impartial guidance we offer, ensuring our students leave with the confidence and skills required to enter the world of work and Further/Higher education. Career Mark Accreditation demonstrates to Ofsted that we are providing an efficient and effective careers programme through:
Management: The effectiveness of our systems for planning, managing and integrating the whole programme

Guidance: The effectiveness of an integrated programme of advice, guidance and support

Curriculum: The effectiveness of our curriculum to supports the development of learners' knowledge, skills, understanding and attitudes

Information: The accessibility, relevance, importance and effectiveness of information, the acquisition of skills to research and evaluate allowing for well-informed and realistic career decisions.
The Academy is delighted to achieve this national accreditation, and is testament to the rigour of our careers programme.